Our Richfield Location will be Open for Christmas Trees on November 27th, 2020. Please check back for updates as we make final Preparations to operate Safely within the Covid-19 environment.
Located at Richfield Farmers Market
6400 Portland Ave. S., Richfield, MN
Richfield Lot Special Features
Santa
Over 400 trees displayed!!!
Christmas Greenery
Large Variety of species & heights
Premium Fraser fir
Jerry Degeest, one of B&J's Certified arborist, will be managing our Richfield tree lot. Standing 6'3″ tall and a 14″ long beard he's the right man to sell some of our largest trees! Take the time to ask Jerry some questions, behind his bearded face and tall stature he's got a wealth of tree knowledge.
Local Grower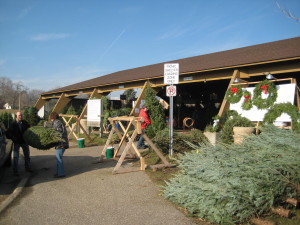 Being a Local Grower enables us to provide the best value around with a quality fresh trees at a great price for your family tradition.
B&J also wants to thank Broadway Pizza of Richfield for offering a discounted warm treat with your tree purchase, Come get your tree and with your receipt see what our Broadway offer is! Located at: 7514 Lyndale Ave S, Richfield, MN 55423
Our Holiday Products:
Fresh Cut Trees
Wreaths starting at $12
Wreath sizes: 24″, 36″, 48″, 60″
Garland
Swags
Spruce Tops
Potted Spruce Tips
Table Top Trees
Tree Stands
Tree Baling
Boughs for Decorating
Helpful, personal, & bearded service!
B&J Trees at Richfield Farmer's Market is only 1 of 3 metro lots. One of our other Christmas Tree Retail Lots may be conveniently located near you in a parking lot or city park within the St. Paul / Minneapolis metro area. We bring our fresh cut Christmas trees from our local farms to provide everyone the ability to have a traditional, real Christmas tree.
Tree Species:
Balsam Fir,
Fraser Fir,
Canaan Fir,
Concolor,
Colorado Blue Spruce,
White Pine,
Scotch Pine